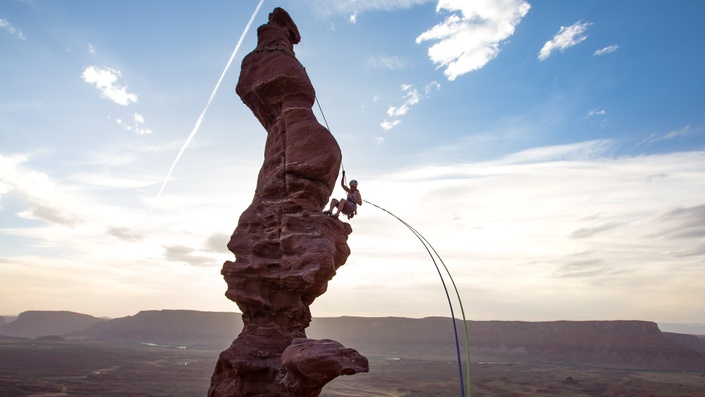 Rappelling for the Modern Climber
the ultimate guide to descend any climb with solid skills and confidence
Watch Promo
Does rappelling feel like the most dangerous part of your climbing day? Do you avoid it like the plague, opting to bushwack forever to walk off a route rather than rappelling down? Maybe you've read some horrible fatal rappelling accident reports, and subsequently fear is keeping you from an objective that "looks super cool...if only the descent was easier". Do you want to be a desirable climbing partner, able to take the lead role when it comes to the descent?

In this 3 hour course, you are going to see what took me 15 years, 48 classic climbs of North America, and $25,000 of AMGA training to learn. Beginners will learn more about setting up solid, trustworthy, rappelling systems, so you can lean back on the rope with confidence. Then we will dive deeper into modern techniques and rappelling set-ups that will save you time, energy and reduce stress even on the biggest descents. With proper instruction, a healthy fear of gravity, applying good systemic checks, and lots of practice, I think everyone can rappel 1000's of times with the safety margins that will make your mother sleep like a baby when you're on a climbing mission.
Most people start out climbing in the gym, where there is no rappelling. Then they go to the crag, where they learn how to clean and rappel from a bolted anchor back to the ground. Once that is mastered, many choose to tackle multi-pitch routes. This adds the complexities of multiple rappels, two rope rappels, route finding, and a longer time commitment. No matter where you are in this evolution, or where you want to go, being able to rappel safely 100% of the time is a critical skill. This course can play a pivotal role in developing these skills.

This course is the ultimate guide to all things rappelling, specifically for climbers. Climbers eager to become savvy at overcoming the common and rare hurdles encountered while descending. If your curiosity maxes out wondering how to clean a two-bolt anchor and rappel a single pitch, YouTube is full videos for that basic topic. This course is for those craving a solid foundation, and more advanced descending skills for the bigger objectives around the world. Maximize your efficiency, without compromising safety. Learn how to deal with problems that arise, and more importantly, how to see and avoid them in the first place.

Become the ideal climbing partner you desire to rope up with. This course will help with that transformation. But you must take the first step by clicking the Enroll in Course button.

Your Instructor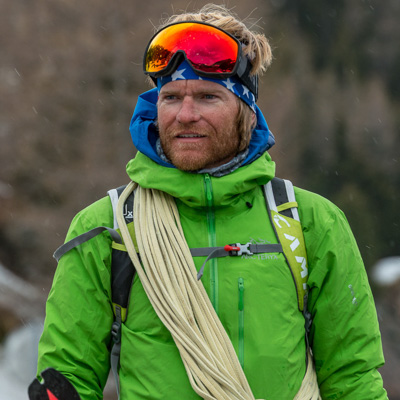 Mark Smiley's passion for adventure has taken him around the world on 20+ expeditions to places like China, Peru, Ecuador, Chile, Argentina, Across Europe, Canada, and Alaska.

He and his wife, Janelle, are the only people that have attempted to climb all 50 Classic Climbs of North America (48 successfully). Additionally, he was part of a team to set a world record skiing across the entire Alps Mountain Range (1100 miles and 292,000 vertical feet) in a mere 36 days.

His teaching style is fun, concise and easy to understand. As an IFMGA Certified Mountain Guide, Mark is among the world's elite guides to reach this status. More important than this certification, is his candid style of conveying to you the best of the best information and techniques that will really help you. Through this course you will tap into his expertise, skills, and knowledge for real world learning.
Instagram feed @smileysproject


Frequently Asked Questions
When does the course start and finish?
The course starts Sept 30 and office hours end 2 weeks later. You can access the information 24/7/365. Making this a great reference tool if you forget anything.
How long do I have access to the course?
How does lifetime access sound? After enrolling, you have unlimited access to this course for as long as you like - across any and all devices you own.
What if I don't learn anything in the course?
I never want you to be unhappy! If you have watched less than half the content in the course (like a meal at a restaurant you want to send back), and want a full refund within 30 days of purchase, I will refund your money quickly and completely.
Does this course make me an expert?
No. "Data is not Information, Information is not Knowledge, Knowledge is not Wisdom." This course will provide high quality information. In order to transform that into knowledge and wisdom, you need experience. Take your time, practice on the ground, and then apply these skills under the supervision of a certified guide.
I'm a student, and stoked to learn what you're teaching....student discount?
Yes. I partner with Universities to offer package deals. Connect me with your Outdoor Club President (or similar). It's easy to set up these partnerships, and you will pay much less in the end.
I want you to have the skills and knowledge to go big and then go home. This course was designed for my 24 year-old self. Had I had access to a reliable/vetted/digestible resource like this when I was just getting started, I could have climbed bigger objectives sooner in my climbing career. I hope this course helps you be safe, and therefore stronger, your entire (long) climbing career.
-Mark Smiley